Spinach Rice
2018-03-02
Servings :

2

Prep Time :

15m

Cook Time :

15m
Average Member Rating
(4.6 / 5)
17 people rated this recipe
This deliciously healthy green rice dish is easy, quick and tasty. This dish can be prepared in no time if you have some leftover cooked rice and spinach. Spinach pulao is my "go-to" recipe for lazy weeknight dinner as it is a balanced meal by itself. This green rice dish is extremely nutritional, it is loaded with Vitamin K, Vitamin A, Vitamin B2, Vitamin B6, Vitamin E, Vitamin C, essential minerals, folic acid, carbohydrate and dietary fiber.
Ingredients
½ cup – Basmati Rice or Long Grain Rice, washed and soaked for 1 hour
1 cup – Water
2 piece – garlic, minced
¼ cup – Onion, finely chopped
¼ cup – Red Bell Pepper, diced
2 tablespoon – Dill, washed and chopped
1 teaspoon – Cumin Seeds
1 teaspoon – Sesame Seeds
6 pieces – Black Pepper Corn
2 piece – Cloves (Laung)
1 small piece – Cinnamon (Dalchini)
1 sprig – Curry Leaves
1 teaspoon – Clarified Butter (Ghee)
1/8 teaspoon – Turmeric Powder
2 teaspoon – Coriander-Cumin Powder
½ teaspoon – Garam Masala (Optional)
Salt to taste
Method
Step 1
Heat ghee in a deep pan, add cloves, cinnamon stick, and peppercorns and let whole spices release the flavor in the oil for few seconds. Add cumin seeds, sesame seeds, green chilli, curry leaves and garlic paste. Let it cook for a few seconds.
Step 2
Now add drained rice and roast it for 30 seconds stirring it continuously. (Note: Stir gently to avoid breaking rice). Add 1 cup of hot warm and salt. Mix it gently; cover a lid and cook on low flame for about 5-8 minutes stirring in between. Water inside the rice is almost soaked or dried and rice is 80% cooked after 8-9 minutes.
Step 3
Add red bell pepper into the rice and cook it for another 2 minutes. Add turmeric powder, coriander-cumin powder and little garam masala.
Step 4
Add spinach puree and dill when rice is 95% cooked. Mix in the puree and dill gently without breaking rice. Cook it for 5 minutes without covering with a lid. You can remove the green chilli now.
Step 5
Delicious Green Rice is ready!! Enjoy this hot spinach rice with yogurt/curd and papad.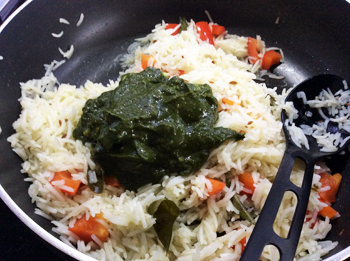 Notes:
Rice Substitutions: 2 cups of cooked Quinoa
You can also use frozen spinach or spinach puree
Oil-free – You can skip using oil or ghee completely. Just dry roast the spices
This rice dish tastes great when served with yogurt and papad
You can make the same recipe by mixing leftover cooked rice and leftover spinach puree with some salt and spices.
Click to get Curd or Dahi or Plain Yogurt recipe here
Recipe Comments