Perfect Peach Smoothie
2018-09-27
Servings :

2

Prep Time :

5m

Cook Time :

5m
Average Member Rating
(4.8 / 5)
18 people rated this recipe
This refreshing smoothie is sweet, slightly tart, thick and creamy and super satisfying for breakfast or a snack. It is a quick & simple smoothie, takes 5 minutes to make.
This is definitely a delicious, flavourful and healthy treat to have. Vegan & Sugarless smoothie recipe is available below – Check here to read.
Ingredients
2-3 large – Fresh Peaches, washed & roughly chopped
2 tablespoon – Honey or Maple syrup
1 – Banana
A Pinch of Grounded Cinnamon
1/8 teaspoon – Grounded Ginger
1 teaspoon – Hemp Seeds (For each glass)
1 teaspoon – Chia Seeds (For each glass)
5 – Ice cubes (Optional, I don't prefer adding ice to my smoothies)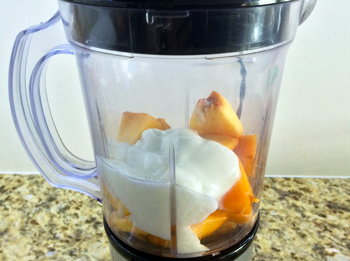 Method
Step 1
In a blender, add peaches, yogurt, spices & honey; cover and process until smooth.
Step 2
Pour this smoothie into a glass with hemp seeds & chia seeds and stir it well. Alternatively, you can blend all the ingredients together including chia and hemp seeds.
Step 3
Garnish it with honey, diced peaches and serve it immediately. Enjoy!
Note:
Sugarless Recipe: Substitute sugar/honey with Dates (Khajur) or banana for natural sweetness
Vegan: Replace yogurt with coconut milk or vegan yogurt of your choice