Spicy Black Bean Soup
2018-03-11
Servings :

2

Prep Time :

10m

Cook Time :

15m
Average Member Rating
(5 / 5)
18 people rated this recipe
This vegetarian soup is easy but it is big on flavors. This soup is really spicy and will warm you up from inside out. I have heard people saying bean soups are usually boring and bland but this soup is hearty, savory and super flavorful. If you like spicy food then you are going to love this soup recipe. Spicy black bean soup can be a good weeknight dinner by itself as it is too filling and satisfying.
This quick and healthy soup is packed with fiber, protein, and nutrients as the soup is loaded with all goodness of veggies, beans, and spices.
Ingredients
½ cup – Black Beans, soaked overnight and pressured cooked in 2 cups of water or 8 Oz can of beans
1 teaspoon – Olive oil
1 clove – Garlic, minced
1 – Ripe Avocado, sliced or diced
2 tablespoon – Onions, finely chopped
2 tablespoon – Celery, finely chopped
2 tablespoon – Bell peppers, finely chopped
2 tablespoon – Carrots, finely chopped
2 tablespoon – Tomatoes, finely chopped
2 tablespoon – Corn kernels
1 whole- Green Jalapeño, cut slit (Optional)
1 teaspoon – Roasted Cumin Powder
¼ teaspoon – Sriracha sauce (Optional)
¼ teaspoon –Cayenne or Smoked Paprika (Adjust as per your spice level)
2 piece – Pickled Jalapeños, finely chopped
Few drops of fresh Lemon juice
Salt and Black Pepper to taste
1 tablespoons – Coriander Leaves/ Cilantro, finely chopped
Vegan Sour cream or Greek Yogurt (Optional)
Tortilla Chips (Optional)
Method
Step 1
Heat a pot; Sautee onion and garlic for few seconds (if it sticks at the bottom, add 1 teaspoon water to satuee) and then add celery, carrots, bell pepper, tomatoes, corn kernels, whole jalapeno and cumin powder. Stir it well, cover and let it cook for a min
Step 2
Pour in the cooked black bean with water, salt, black pepper, cayenne pepper and pickled jalapenos. Bring it to a boil and let it simmer and cook for 12 mins
Step 3
Stir in Sriracha, lemon juice and coriander leaves. Adjust the consistency of soup according to your preference and remove the whole Jalapenos as it has done its job!
Step 4
Garnish soup with sliced avocado, vegan sour cream, and tortilla chips. Enjoy and Stay Warm!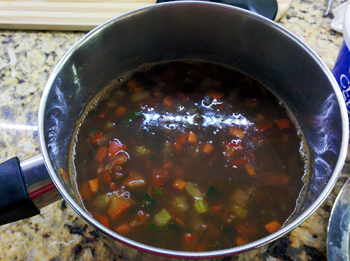 Notes
Vegan Option: Do not add sour cream instead add vegan yogurt. It will taste good even without any creamy garnish
Gluten-Free: top it with gluten-free chips instead of regular tortilla chips
Stay tuned to learn how to cook black beans at home.