Mix Dal Steamed Dhokla
2018-02-27
Servings :

12-15

Prep Time :

15:00 h

Cook Time :

15m
Average Member Rating
(4.7 / 5)
30 people rated this recipe
Dhoklas are one of the famous Gujarati Farhan, very tempting and delicious. Dhokla can be made in many different styles but this vati dal dhokla (Vateli Dal in Gujarati means soaked and crushed lentils) is my family's all-time favourite dish. It can be eaten for morning breakfast or lunch or as tea-time snacks. It is a lengthy procedure and needs to plan ahead to cook this but worth a try (Once you make this you will never use instant dhokla packs). The secret behind this full-proof recipe is preparing a perfectly fermented batter which makes very fluffy and mouth-watering steamed dhokla at home.
As the name suggests, it is made with different lentils soaked, crushed and then steamed; hence a very healthy, filling and tasty dish. Dal Dhokla is a perfectly balanced dish that is loaded with full of nutrients, protein, and minerals.
Ingredients – for Batter
1½ cup – Chana Dal (Split Bengal Gram)
1 cup – Urad Dal (Split White lentil)
1 cup – Moong Dal (Split Yellow lentil)
1 cup – Rice
5 tablespoon – Green chilli – Ginger paste (as per your spice level)
1 teaspoon – Turmeric Powder (Haldi)
1 tablespoon – Red chilli powder (Optional)
2 tablespoon – Oil (to grease the steamer plates)
2-3 cup – Water (as per requirement to make correct batter consistency)
Salt as per taste
1/3 cup – Fresh Coriander leaves, finely chopped
Steamer or Pressure Cooker or Idli Stand for making dhokla
Ingredients – For Tempering
4 tablespoon (or less) – Oil
1 tablespoon – Mustard seeds
1 tablespoon – Sesame seeds
4 – Green chillies, chopped
Note: You can find all the above ingredients at any Indian store.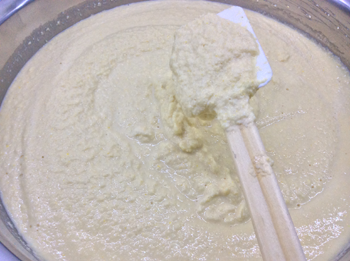 Method
Step 1
Preparing Batter - Wash and soak all the dals (Lentils and rice) overnight or for 5-6 hours.
Step 2
Drain off the excess water after 6 hours and grind it into a thick paste consistency using a Vitamix or blender. (Note: try using minimum water and grind it to fine smooth paste)
Step 3
Transfer this batter to a very large bowl and keep it aside in a warm place for 6-8 hours for fermenting. If you are living in a cold country fermentation might take up to 12-15 hours. The batter will rise and have a bubble which indicates it is fermented.
Step 4
Preparing Dhokla – In a separate small bowl, take 3 cups (Depends on dhokla steam dish size) of fermented batter. Mix salt, green chilli-ginger paste, turmeric powder and water to adjust the batter consistency. It should be a thick pouring consistency.
Step 5
If you wish, you can add Eno fruit salt now and mix the batter thoroughly.
Step 6
Preparing Steamer - Grease steamer plate or Idli stand or deep plate with oil. Fill water at the bottom of a steamer or pressure cooker and place greased plates inside and cover the steamer with a lid. Let the water inside the steamer come to a boil.
Step 7
Pour the prepared batter into a greased dish. Sprinkle red chilli powder over the batter and cover the steamer with a lid.
Step 8
Let the batter steam for 15 minutes on a high flame without opening it. Once done, you can open the steamer and prick a toothpick or knife inside the dhokla, if it comes out clean it is done. Turn off the flame and remove the dhokla dish from a steamer.
Step 9
Allow the dhokla dish to cool for a few minutes. Once cooled cut into pieces and garnish dhokla with tempering and fresh coriander leaves. (Repeat the above process for the rest of the batter)
Step 10
Preparing Tempering - Heat oil in a small pan, add mustard seeds and let it crackle. Thereafter, add sesame seeds and chopped green chillies. Turn of the flame.
Step 11
Serve this hot, soft and fluffy dhokla with green coriander chutney or with tea/coffee.
Notes
I do not add any fruit salt, Eno or sodium bicarbonate. If your batter is not fermented properly please add 1 teaspoon of Eno fruit salt to each dhokla steaming batch for that extra softness.
Healthy options: To avoid oil, tempering dhokla is optional. Alternatively, you can dry roast mustard seeds and sesame seeds and sprinkle it on the top of dhoklas
This is a vegan dish. Steamed and healthy snack.
Dish Variation: You can use only chana dal for this recipe or different combinations of lentils.
Leftover dhoklas can be a perfect breakfast item the next day. You can sprinkle water over leftover dhokla and warm it.
Leftover batter: You can freeze this batter in a freezer safe container for about 2-3 months
Thank you, momma, for this authentic Dhokla recipe!
Recipe Comments