Coriander Mint Green Chutney
2018-09-21
Servings :

1 Cups

Prep Time :

5m

Cook Time :

5m
Average Member Rating
(5 / 5)
18 people rated this recipe
Here's a simple, but flavourful and healthy recipe for Coriander Mint dip/chutney/dressing. This chutney is made with ALL NATURAL ingredients, contains no preservative, no artificial flavor or colors, and is vegan. A delicious accompaniment to Indian food like Samosas, Tandoori Tikkas, Dhoklas, Indian Sandwich, Parathas etc and also tastes amazing with roasted veggies, Buddha bowls, salads etc. It is so easy and fast that can be made in 5 minutes.
The natural green color of this chutney is so appetizing and fresh. It is not only tasty but also loaded with good nutrients – vitamins, minerals & dietary fiber. Cilantro has good amounts of antioxidants and contains no cholesterol.
In Ayurveda, coriander is considered to be a very good and cooling spice. It is good for digestion, whets the appetite and also helps purify the blood.
Ingredients
1 bunch or 3 cups – Fresh Coriander Leaves, washed & roughly chopped
15-20 leaves – Fresh Mint Leaves, washed
1 clove – Fresh Garlic (Optional)
2 Whole Green Chillies
½ teaspoon – Cumin Powder
1 teaspoon – Sesame seeds (Optional)
1 inch – Ginger Root, peeled & washed
1 Tablespoon – Freshly Squeezed Lemon Juice
1 ½ Tablespoon – Peanuts
1 teaspoon – Sugar
Himalayan Pink Salt to taste
1 teaspoon – Oil (Optional)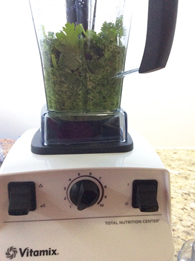 Method
Step 1
Add above mentioned all the ingredients into Vitamix or a food processor/grinder and blend it till smooth paste consistency. You can taste and adjust salt, lemon and spice level. You can make chutney thinner consistency by adding more water or yogurt before serving.
Step 2
Serve it immediately or store it in an airtight container and keep it in the refrigerator. This chutney will stay fresh in the refrigerator for up to 5 days.
Step 3
This fresh green chutney/dip tastes amazing with any Appetizer or Indian Street Food/chaat etc. Enjoy!!
Notes
Storage/Freezing: Make this green chutney in bulk (pour chutney in ice-cube moulds and freeze it to for easy use).
Green Color: Add oil at the top of this dip which will help in maintaining the green color if storing it for a longer time or freezing it. Lemon & Sugar also helps to retain the color.
Consistency: You can make it thinner by adding 1 tablespoon of yogurt/curd. Mix yogurt thoroughly to make it a smooth and consistent paste.